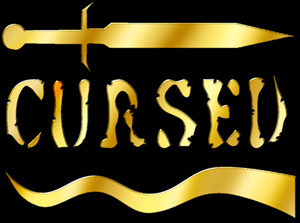 Welcome to a Legend....
Deep in the past a group of greedy villages attempted to gain riches supposedly
hidden in the temple to a long forgotten god. In that temple they found mystical
ward spells that promises great power, but on attempting to leave, also invoked a
terrible wrath. For well the temple was long abandon, the God it served was still
there. For their crimes they were all cursed, one by one, to turn into a hideous
beast that would attempt to devour the others in the night. The curse would only
be broken when a single Villager remained. You are one of these Villagers....
you are the CURSED!
Curse is a fast paced game for 3 to 8 players, suitable for game players ages 5 and up. It takes rough 3 minutes per
player, and accommodates up to 8 players at once. The gameplay is an innovative blend of Competitive and Cooperative
gameplay, in which players take turns becoming the dreaded Monster, while those who are still human band together
to hold off the the beast for the night.
Robert C Kalajian Jr, at the Purple Pawn said,
"...Quick, at times tense, and a whole lot of fun"
Here's what the Dice Tower had to say:

To see the Rules, Click Here: Cursed Rules (English)
Here's the PDF version: Cursed Rules PDF
To see a video of the game in play, click on this link: Cursed 3 Player Demonstration
To see more of the components, check out this video: The Cursed Unbagging
To Contact us or learn more, try our Facebook page: Cursed on Facebook
Please NOTE: We are currently out of the velvet carrying bags. As such the price for the game has been decreased by $5.
If more bags become available again in the future, I'll make the available for purchase separately.
(Due to the game's theme, and small parts, it might not be suitable for the young children)
For Customers Inside the United States, Cursed costs $25 + $12.95 Shipping/Handling.
Click below to purchase:

There isn't a simple link to buy Cursed if you are outside of the United States. Please contact me via Private Message on the Boardgame Geeks website to setup shipping to your country.
The main Gameboard, or "Tablet" is a composed of a thick
sheet of Birch Plywood, hand stained and sealed. On top
is pressure adhesed a thick color laser print on Linen paper.

(Like an piece of furniture, the back of the board is
resistant to moisture, but should be kept dry to avoid water
marks. The front Linen print isn't as moisture resistant and
should be kept dry at all times to avoid water damage. Due
to the hand-made nature of the Tablet, some variations in
appearance may occur)


Cursed includes 54 Linen cards, designed to be
durable and resistant to wear

Curse also comes with the Following:
- 2 Stainless Steel Cups
(The Smallest Cup is for the "Void", the Largest is for
either covering the Monster rolls, or as a receptacle
for unused Life Tokens)

- 70 to 80 Transparent Life Tokens

- 15 10-Sided Dice from premium dice
manufacturer Chessex
(8 Transparent Blue Dice for the Villagers,
and 7 Solid Green Dice for the Monster)



Return to the World Wide Chaos Inc Main Page